This week on Glee: the mystery behind Emma's always-entertaining pamphlets is revealed, the writers finally acknowledge what a douchebag/creeper/crappy teacher Will Schuester is, Santana continues to be a beacon of truth, and, oh yes, Ricky Martin distracts straight women and gay men everywhere with his general hotness.
Let's begin, shall we?
We open with Will's apparently annual rendition of La Cucaracha. And, for once, instead of hailing Will Schuester as the best teacher even when, in reality, he probably shouldn't have his job anymore, the Glee writers finally acknowledge that most of what he does is terrible and often offensive.
Queue Principal Figgins, who lets Will know that there is an open tenure position and Will (for unknown reasons) is on the short list for tenure…is the state of public education in Ohio so tragic that Will Schuester may actually be tenured? Tragic. Also, who hires a Spanish teacher that knows no Spanish? Fail, McKinley High. Fail.
Enter Ricky Martin (I mean…David Martinez). As with all the other gays, I am fully distracted by his hotness and barely able to listen to anything he's saying…and I'm totally okay with that. In an awkward and oddly homoerotic moment, Will asks David out to coffee…except they just go to the teacher's lounge…awkward. Blah blah David wants to teach and wants a Glee club. Will invites him to their Glee cup! Woo!
Cut to Sue asking some of the Glee boys to give them her sperm. Um, inappropriate much? Also, Sue, pretty sure you're way too old to be having a baby. Just gonna throw that out there. Why don't you just adopt?! This storyline is pretty terrible, but of Glee's terrible storyline choices, it probably doesn't even make top 5. I'm probs just going to ignore most of it from now on…
Back to Glee club! Will Schuester is stealing David Martinez's speech. BRITTANY ADMITS TO BEING BI! Finally the writers have acknowledged this and have had her say it out loud. Also, when was the last time Brittany had lines? I honestly can't remember. Santana continues to be skeptical (as she should be), but here comes Ricky! Kurt's face is perfect during this entire scene. Just watch it.
Song #2: "Sexy and I Know It." This is a terrible song, but I don't care. Ricky Martin is hot. That's all that matters. Also, why do they still let Cory Monteith dance? What a terrible life choice. He almost ruins this scene with his awkward white boy-ness. See if you can catch Harry Shum's completely inappropriate move that I'm shocked made it past Fox before this episode aired.
And now we learn about Emma's amazing pamphlets. She apparently designs them herself. Her newest additions: "So You're a Two-Timin' Ho" and "So You're Dating a Two-Timin' Ho." Priceless. I will admit that last week I wrote about not caring about the Samcedes storyline anymore, but this episode completely won me back over. I ship it. I ship it hard.
Cut to a scene with probably my favorite addition to Glee this season: Nene as the synchronized swimming coach. Her scenes with Sue in this episode are priceless. Also, the Cheerios dancing made me want to watch "Bring it On." #YouKnowYou'reAGayManWhen I will not acknowledge the "Sue wants to have a baby" storyline. Favorite line from this scene: "I won this bronze damn Olympic medal in Beijing, China. I had noodles with the President and a threesome with Michael Phelps."
And now to my least favorite storyline ever! Rachel decides to tell Mercedes and Kurt that Finn proposed. Anyone else proud of the fact that Rachel made it 18 whole minutes before she decided it was time for her to be the center of attention again? I am. Kurt has the appropriate reaction to her news - which will later lead to an adorable scene with Finn.
Dear Mercedes - sing everything always. Amber, you may not be a great actress, but you can SING. Also, the cockblocking keyboard is featured prominently (in my mind) in this scene, and it just fills me with an angry rage.
Anyone else feel awkward about the Spanglish in this episode? Why couldn't they just stick with singing in one language or the other? Mixing them is…odd.
I think Chord's song is the first time I didn't mind him on the show. Normally I think he's a waste of space (except for when he's shirtless, obviously), but I'm back to shipping Samcedes, so this scene was fun. Those boots are pretty terrifying, though.
Santana closes out the scene by challenging Will to "defend his Spanish teacher honor." Love it.
Emma continues her badass pamphlet streak with a new one entitled "Don't Hog My Fiance's Nog." Love it. I will ignore the rest of this scene, though, cause this storyline is terrible.
Enter cute scene in which Kurt tries to convince Finn that he's worth something and that marrying Rachel is a mistake. Thanks for the truth-telling, Kurt. Someone needed to say it.
More Sue…blah blah blah.
And then Will is a douchebag to Emma. Like, he has been a douchebag to her before this, but this time it's just as bad. I'm glad she called him out on it - she can take care of herself and her pamphlets are badass. Suck it, Will. She shouldn't be marrying you.
And now enter the best moment of the entire night. Naya Rivera and Ricky Martin singing together. This entire season was worth the shitty writing just for this moment. And why did they sing together? Well, Santana put it perfectly:
Then, just when I thought Glee couldn't get any worse than it already has…it did. Will's song (complete with a tacky matador costume and Brittany and Mike Chang making the terrible life choice of dressing up as bulls and running around stage) is the worst thing Glee has ever done. Think of all the borderline (or over-the-line) offensive things Glee has managed to accomplish. This trumps them all.
At least Santana calls it like it is and basically tells Will that he's the worst Spanish teacher ever. Dear Santana, please get Will fired. That would be the best thing ever. Yes, even better than Klaine. I am hereby starting a campaign to have Santana get Will fired. If anyone can do it, she can.
Blah blah pamphlet story line. No one cares anymore. Oh, and apparently David is now going to be WMHS's Spanish teacher…and Will is going to teach HISTORY?!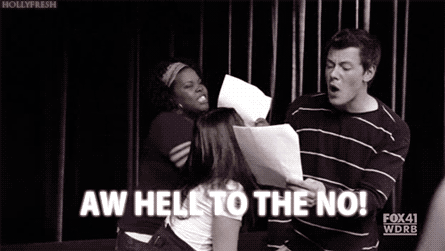 Rest of the episode: blah blah Sue and Becky blah blah Will and Emma blah blah.
And that's what you missed on Glee!